Blessings Received, Blessings Bestowed:
The Journal of
Otim
(Arturo Enriquez, Jr.)
December 27, 2011
Today the team of nineteen will begin our journey by air to Entebbe, Africa, where we will lodge for the night. My day began semi-early, roughly around eight am. I arrived from El Paso, TX on Sunday with not too much time to arrange how I would be getting to the airport today. After a few phone calls with the individual who was going to pick me up, we eventually agreed to have a taxi drive me to the airport and she would reimburse me at the airport. When I arrived at the San Antonio airport, I didn't express many emotions about the trip. The group consisted of individuals with varying levels of flight time, which was interesting to witness. We are almost halfway there and I still don't seem to be expressing any emotions, Amsterdam is shortly two and half-hours away. As I'm sitting in the plane all I can think about is the method of transportation in and of itself, it is still something I tend to be intrigued by. The fact that we are traveling 634 mph in midair is mind-boggling to me.
December 28, 2011
It is now Tuesday; when you calculate the time difference we have been traveling for a day now. Before flying to Entebbe the plane has to make one quick stop at Kigali, Africa. I met a young man on this flight who has been studying in Vancouver for the past two years.  This is his first trip home in two years.  Speaking with him, I was impressed by his knowledge of his home country of Uganda. I wanted to see what the city of Kigali looked like, but I was unable to do so since we had to stay aboard the plane and it was dark outside. The young man's name is Taddeo Ahumuza. Tadddeo is the third of four children and was born in the village of Kagadi in the district of Kibaale and he is studying at the British Columbia Institute of Technology. Technically, we have been traveling for about 17 hours; it feels surreal for me not being able to see Africa yet. We finally arrive in Entebbe after 10 pm and I am finally starting to show my excitement as soon as I deplane and see the Ugandan people and the diversity in the airport. There is a noticeable difference in airports from Amsterdam to Entebbe.  The Amsterdam airport gave me a sense that I was at a resort with luxury services within reach at the airport, while the Entebbe airport gave me a sense that I was in, well – Africa. After going through customs and claiming our luggage, we meet our bus driver, Haji.  It is at this time, that I am reminded of my time in Iraq. When I served, we loaded our luggage onto a Mitsubishi bus and drove to our destination late at night – I find myself doing that now.  En route to Banana Village, the name of our hotel, I noticed that several buildings were abandoned mid-construction. On our ride to the hotel, I notice streets full of pot holes, minimal street lights, few paved roads, and electricity is not abundant throughout the city. As soon as we turn onto the dirt road which leads us directly to the hotel, luggage begins to bounce around in the back of the bus. We are all exhausted from the flights so we make our ways to our rooms – which resemble huts, these huts in particular, were made out of cement with straw ceilings.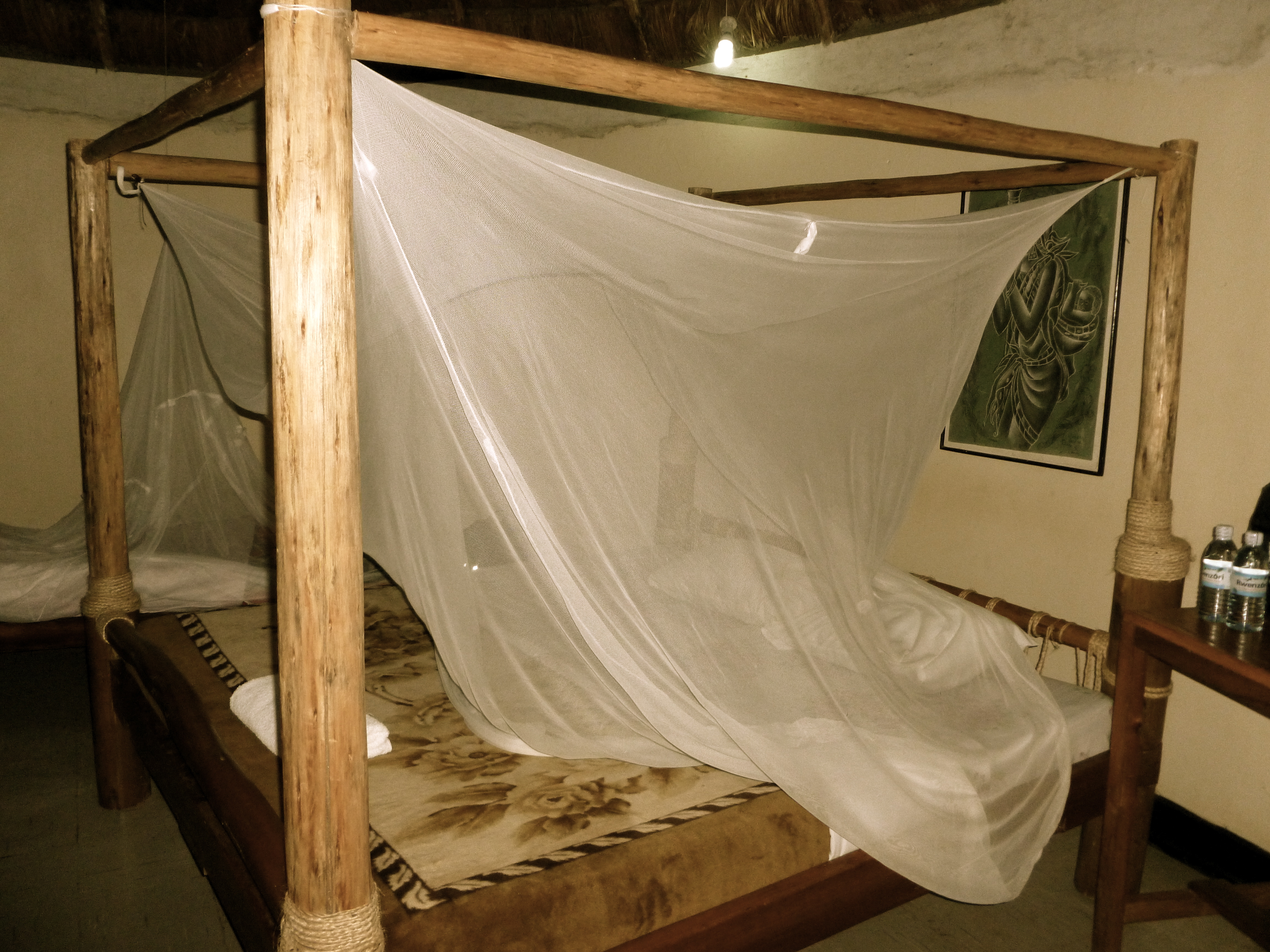 Mosquito netting drapes over our beds to protect us from the mosquitoes and other bugs. Tomorrow morning we are scheduled to wake up at five am, eat, and depart to Gulu – back on the bouncy bus. 
December 29, 2011
Last night was interesting but unfortunately, not much sleep. We woke up at 5 am to get dressed and ready for a 5:30 am breakfast. Breakfast consisted of bread with plum jam, cereal, and hard-boiled eggs. By 6:30, we were all repacked and on the road traveling to Gulu which is located in northern Uganda. Our bus ride to Gulu commenced before sun up. We departed Entebbe in the Wakiso District located on a northern Lake Victoria peninsula about 29 miles away from the capital, Kampala. Entebbe is quite a site and the view is incredible. As we begin travelling through the town, I'm surprised to see the size of most of the homes that blanket the sides of the hills.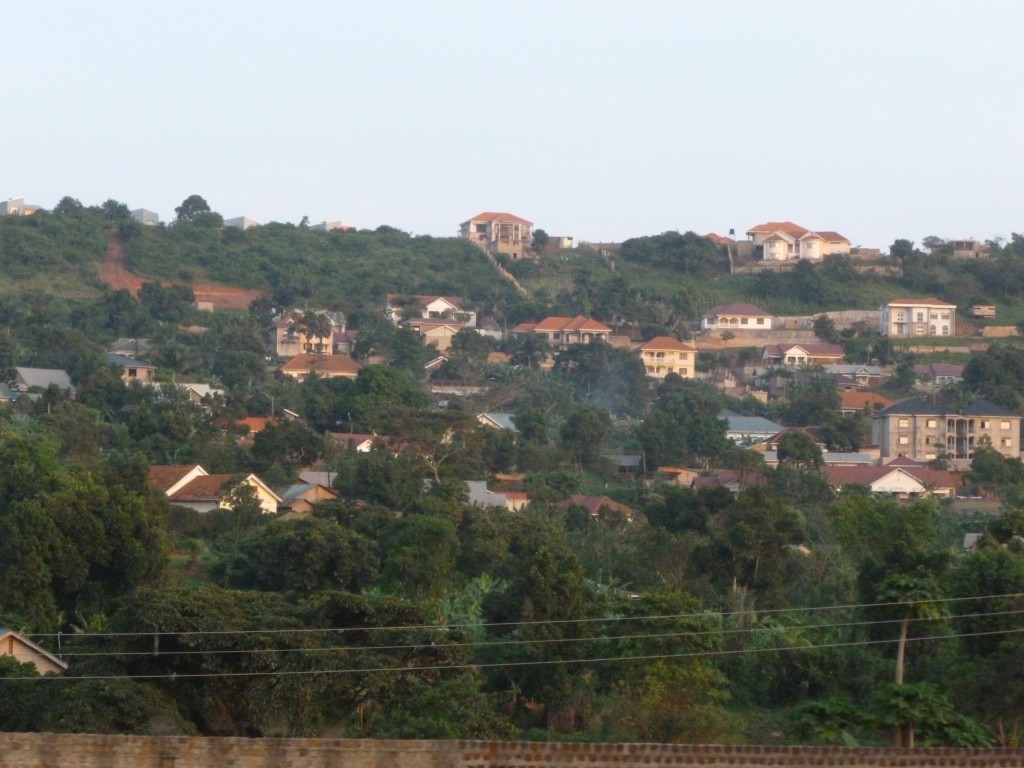 It seems to me as if there is only one main highway; most of the roads leading to the homes on the hills are dirt roads or trails. As we approach the center of Kampala, the atmosphere appears busier.  More people begin to travel the road; bicycles carrying goods are pushed along the way to the local markets, motorcycles are flying by at times with up to five individuals, and small vans acting as taxies, are filled with people trying to get to their destinations. By observing the road conditions, it is clear that most travel is done by walking, bicycle/motorcycle, and small vans. Most gas stations are congested with small vans waiting in line; some lines back into the road. I again notice that many of the city buildings are left uncompleted. Garbage is spread throughout the entire city with large Marabou Storks scavenging the garbage. Local market inventory consisted of wood, bananas, other fruits, and seed. Delivery trucks en route to the markets filled the roads. The city was also filled with smoke from trash burning and vehicle exhaust.
As we make our way out of the city, traffic subsides and I notice homes go from small to smaller. A majority of the homes seen from the highway are made from brick and appear to be 14 feet by 16 feet in perimeter. It is evident that country life relies more on family independence and their ability to sustain themselves.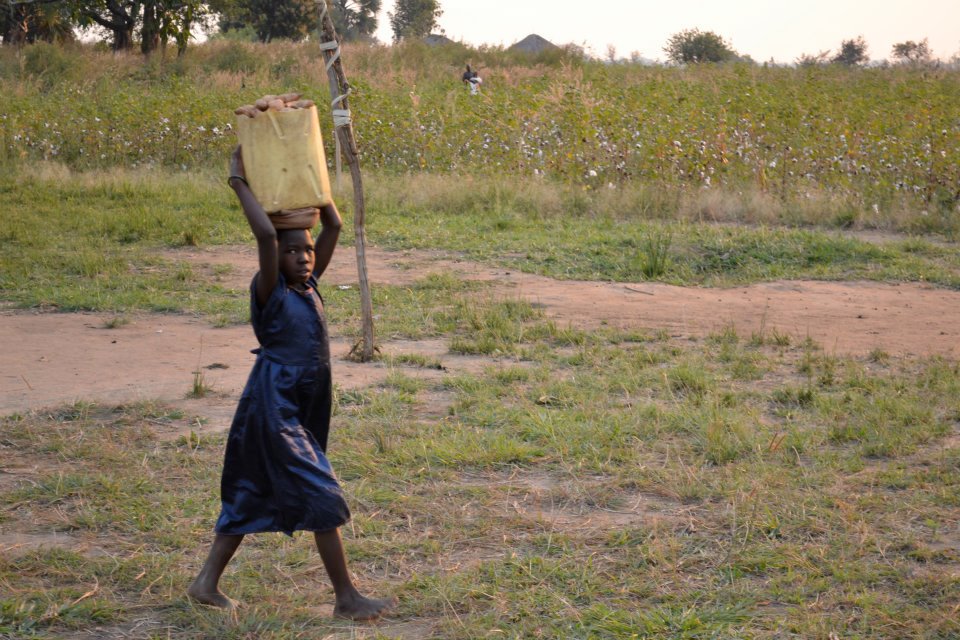 Crops are the main source food and in order to obtain water for irrigation and consumption, one must travel anywhere between one and two kilometers to the local water pump with five-gallon jerry cans.
During our travel, we approach a bridge that is guarded by soldiers and need to get the "okay" to proceed.  Haji informs us that we are crossing the Nile River; everyone insists he stop so we can snap photos of it. While we are stopped, a soldier approaches us to inquire if there is an issue.  Once he notices the cameras, he asks that we put them away. We were all in a state of suspense and excitement. After crossing the Nile, I begin noticing the homes are no longer constructed of brick.  They are huts made of mud with grass roofs. We arrive in Gulu, which is in the Gulu district and drop our luggage off at our hotel, JoJo's Palace, and head out for lunch at a nearby hotel. After lunch we meet with newly appointed Chairman of the district of Gulu Martin, who shares with us his short and long-term visions for the district. We return to JoJo's but a group of decide to take a stroll with Luis, one of our student interpreters. Luis takes us through a local market and then through some of the streets of Gulu. I saw a great deal of the people in Gulu congregating on street corners chatting with one another. Others were trying to sell their goods: food, fruits, vegetables, and clothing. The women's attire here in Gulu is very colorful.  It was a peaceful stroll with the exception of the occasional African music in the background and surprisingly, at times, American pop music. Dinner was served around 8:30 pm with the menu consisting of white rice, beans, and cabbage. We met with Tony, the Villages of Hope Africa (VOHA) director in Gulu over dinner to discuss a tentative schedule for the next week and half. On our way to our rooms, I stopped on the balcony overlooking the town and noticed that there is not much of a "night life" – the majority of the district shut down, and with the exception of a few hotels and streetlights, the town is dark because of the lack of electricity.
December 30, 2011
Before going to bed last night, I noticed Ahmad's wife on the balcony and went over to ask where Ahmad was. She informed me he was at the restaurant and insisted on calling him. Although I tried to persuade her not to, she was adamant and Ahmad arrived shortly thereafter.  Tamy was born in the Congo to a Portuguese/Belgian mother and a Lebanese father. Ahmad arrives and begins sharing his history with me. Both of his parents are Lebanese.  He left home at the age of 16 to work in Sudan and moved around to Sudan, Lebanon, Dubai, Afghanistan, and Uganda. He has experienced wealth and poverty. Prior to coming to Uganda, he and a partner had roughly $350,000 (American) in investments. One day, his partner disappeared taking with him all their investment money. Because of this loss, Ahmad started from scratch and worked hard to pay off his debts. While living in Afghanistan, he contracted with DynCorp, which was a decent living; however, his life was in constant jeopardy because of Taliban presence and death threats. In one instance, the Taliban kidnapped Ahmad's friend.  Ahmad sought assistance for his kidnapped friend from the U.S. embassy.  Although his friend was later rescued by the British army, Ahmad and his friends decided to leave Afghanistan. Ahmad saw Tamy on a friend's Facebook account and did everything in his power to arrange to meet her. Two years and three months later, they are married and living in Uganda with a three month-old baby boy. He invited me to his restaurant's New Year's Eve bash, but I inform him I will not be able to make as we will be in the village of Pokogali. I'm still hopeful to have the opportunity to visit his restaurant before our departure.
Today we woke up at 7:00 am and are scheduled to go to the village of Logot Libi. Most of our mornings will consist of eating breakfast of: peanuts, eggs (plain omelets or hard boiled), white bread, bananas, plum jam, and coffee or juice, followed by a group devotional. After devotional, we put together some mercy bags – sugar, salt, and a bar of soap – to aid us with hut to hut evangelism. Before leaving to the village today, I spoke with a young Lebanese man named Ahmad Nazzal, whom I met yesterday. From our conversation yesterday, he has been in Gulu for about seven months and opened a Lebanese restaurant near JoJo's. His wife, Tamy, just arrived from Lebanon with their son a few days ago. I was at ease with them and was comfortable asking in depth questions. They are both very friendly and I'm hoping to visit his restaurant during my stay in Gulu. The hustle and bustle of the city is apparent upon sunrise here in Gulu as the people fill the streets and shops are reopen for business. Many children are seen carrying full five gallon jerry cans with recently pumped water. We departed to Logot Libi around 10 am.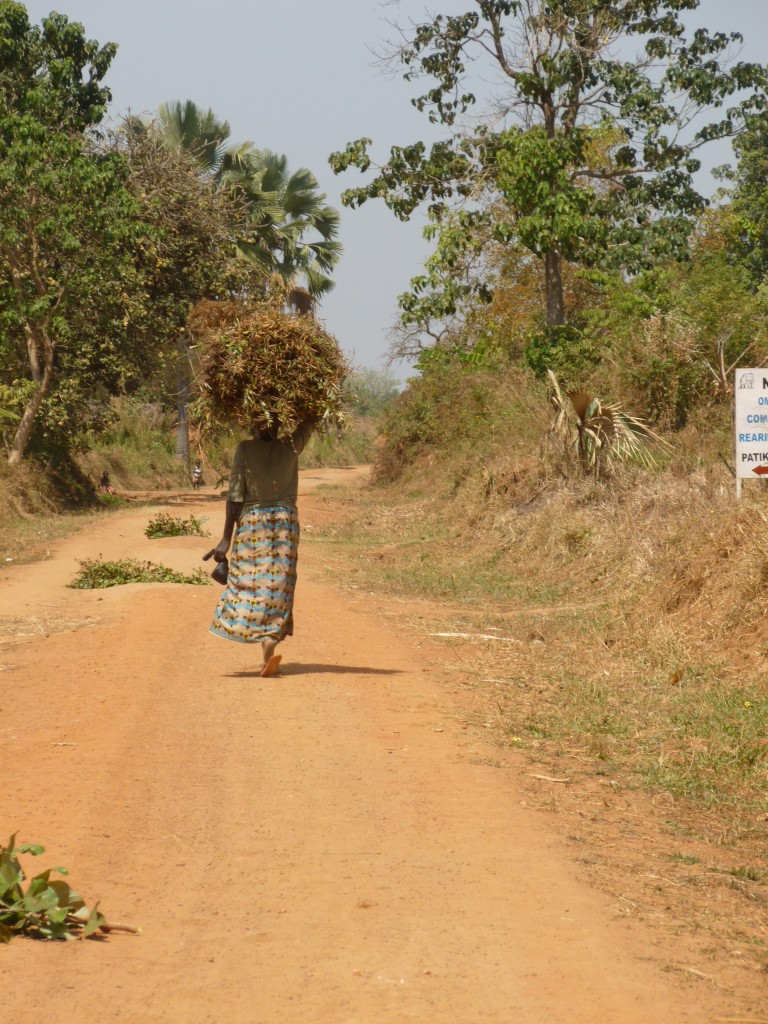 The roads are filled with people on foot and surprisingly, the further we travel away from Gulu, people are still seen walking or riding bicycles along on the dirt roads carrying different items such as five gallon jerry cans, straw, wood, and glass bottles. There are many trails along the road that lead into small hut communities. We finally arrive at Logot Libi, where a large crowd of Acholi people from different communities were eagerly waiting our arrival. As soon as the bus is spotted by the Acholi people, the air is filled with singing and dancing from the children, youth, and women – most of the men are off to the side, something our team leader mentioned as a common occurrence.
I step off the bus and observe everyone else as they quickly begin striking up conversations, picking up babies, and engaging in a game of soccer. As I stand there soaking in all the excitement, two young men approach me and, to my surprise, begin speaking to me in English.  They insist on giving me a tour of the village and I accept. We walk past some mud bricks laid in the sun to harden.  Out of curiosity, I asked how the mud was formed into bricks. They show me this wooden device they used as a mold to form single mud bricks.  I asked if all the bricks on the ground came from this one and only device – they answer "yes." Each village has one of these brick forming devices that the entire community shares. I also notice a single water pump in the center of the village and ask the two young men if that pump is the only pump for the entire village, again – "yes." Before heading back to the center of the village, the older of the two invites me into his hut for some food.  I unwillingly decline since I'm not sure whether I'm supposed to accept their offer or inform a lead member of the team. As soon as I decline, my would-be host insists I try some fruit he anticipates has finally ripened. He picks it up, washes it, slices it open, then offers me a piece.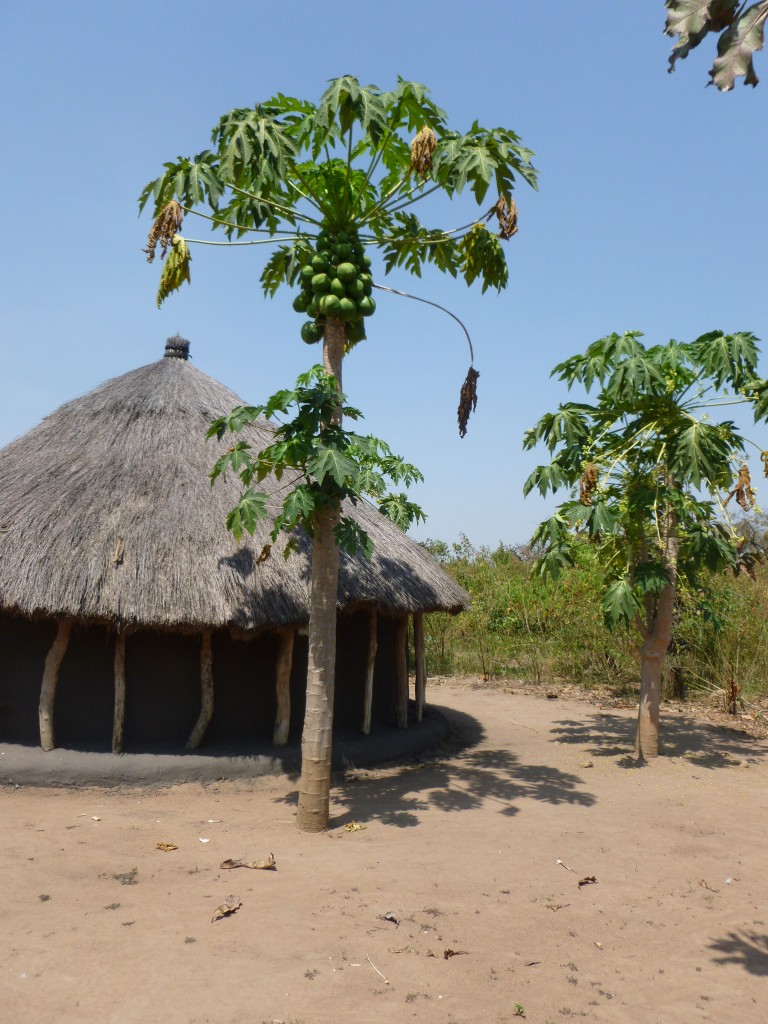 Despite the fact it had not fully ripened, he could not send me off without first feeding me. We make it back to the town's center in time to begin helping the men with construction of the town's first church. We begin constructing the church frame, which didn't take long because of the number of participants.  Once the frame is erected, a great celebration took place in the center of the church.
Kilama (David), the younger of the two men, and I begin a conversation which surprisingly keeps us occupied until my departure from the village. I discover he is twenty-five years old and a newlywed.  He and his wife are expecting a child. I wondered if all the individuals who greeted us earlier were residents of the community. I was surprised to find out many of the people in the village walked here from neighboring villages just to come see us, the Americans. Despite that I had not been in the country very long, it was apparent that most English speakers were men and the youth. Kilama stated that the lack of education for the younger generations and the lack of medical supplies was a major inhibiting factor for Africa.   
We arrived back at JoJo's around 8:00 pm in time for rice, beans, and cabbage – dinner. During dinner, I reflected on the faces of the children I saw throughout the day and could not stop thinking of one child in particular that caught my attention; he was too cute and I just wanted to bring him back with me to have fellowship over dinner. Tomorrow we will travel to the village of Pokogali where we will be spend the night.
December 31, 2011
I finish breakfast and head towards the town's main street. I have realized I enjoy people watching – and it dawns on me, it's New Year's Eve and I'm in Gulu, Uganda. I am in Africa! Everyone back home is preparing for an extravagant New Year's celebration but I will be in Africa's countryside in the village of Pokogali with the Acholi people. The Ugandan life expectancy is 52 years.  To say that I was joyful upon the sighting an elder is an understatement. During devotional this morning, we were distracted by loud drumming and police sirens that got louder and louder. We all ran out to the road to investigate. We are surprised to find a parade marching by. African beats, loud cheers and chanting filled the air. The parade energized the district of Gulu – the crowd's cheers uplifted my spirit I was ready to ring in the New Year.  Soon after the parade we loaded onto the bus and departed to Pokogali.  Along the way, I notice an interesting phenomenon -a lot of children caring after their younger siblings.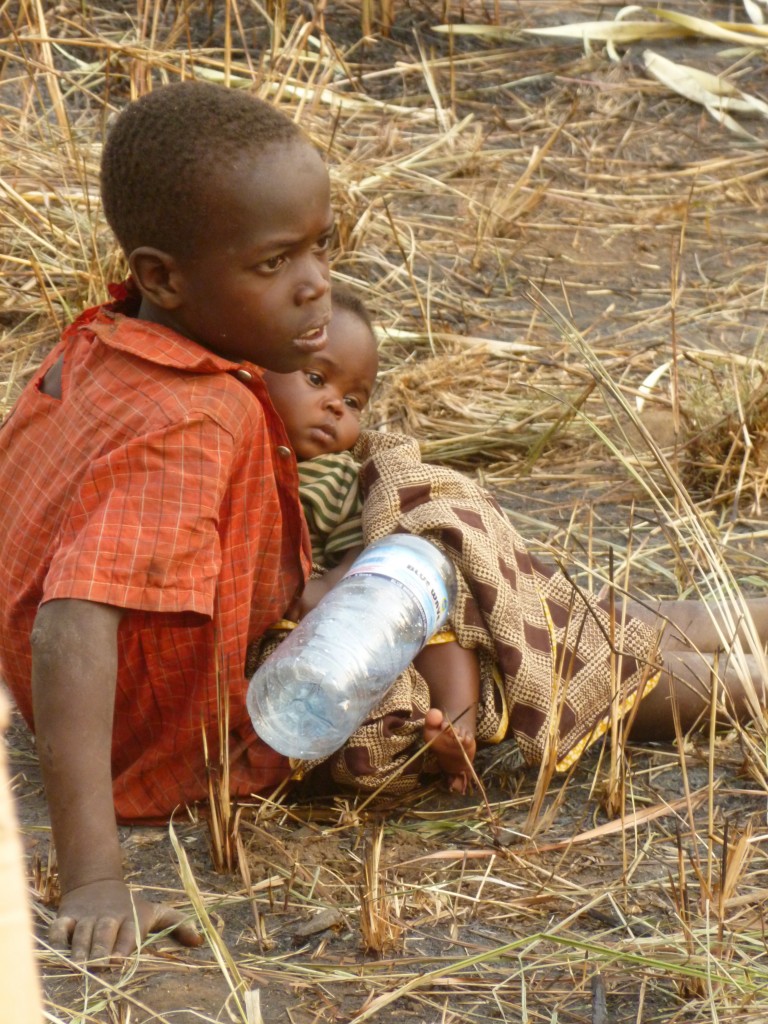 We arrive at the village around 1:00 pm. We receive our warm welcome and lunch preparation begins. On the menu: peanut butter, honey, and banana sandwiches.
After lunch we begin hut-to-hut evangelism. We hand out mercy bags and invite the families to Vacation Bible School ("VBS") which will include the viewing of a film. Abwosh (Mathew) accompanied me and a couple others from the team as we ventured off into the village.  Upon our return to the center of the village, Abwosh and I begin to develop a relationship through thoughtful conversation. Our conversation was cut short as our schedule required my team start the next event.  The village pastors were called into the school to listen to some team members speak about their hut-to-hut evangelism experience. I was asked to share my experience, and although I was hesitant at first, I was persuaded and discussed my experience at length. Afterwards, Abwosh and I continue our conversation. Abwosh was 25 years old when Joseph Kony and the Lord's Resistance Army forced everyone in the area into encampments not far from the village. These encampments would eventually hold thousands of people. Abwosh recalled loud cries from mourners in the early hours. He lived in the encampment half of his life, for more than 20 years! Living in the encampment exposed him to violent death and death from those succumbing to various diseases. He returned to his native village in 2008. In his late forties, Abwosh is the father of five children. He was fortunate to attend university and discussed his passion for higher education. He appreciated that Ugandans rarely have the opportunity to receive a higher education and was spiritually moved to return to the village to educate the local village children. He was able to teach the village children until the government stepped in and offered teaching assistance. Since the government's providing a stipend to the school for administration and personnel, a child's education is free of charge. Although he no longer teaches at the local school, he shares his expertise by evangelizing the Word of God on a hut-to-hut basis. Abwosh also guides villagers on the proper methods of animal care.
Abwosh and I discuss the typical day in the village. The typical villager starts his day by tending to their crops. Household chores come next. I ask him about the child care phenomena I witnessed earlier. He informed me that young village women go to be married in the city and return with their husbands to begin a family. The young woman will live in the village until their husbands divorce them. When divorce occurs, the young woman will return to the village, and leave her children in the care of her mother so that she can return to the city in search of a husband. Because an elder grandmother is tasked with caring for the young children, it is common in this culture for younger children to assist the elder with the child care of their sibling.
During my talk with Abwosh, the village children played and attended VBS hosted by some of my team members. After VBS, we have our dinner of rice, beans, and cabbage in our nearby tents while the local villagers view a film in the Acholi language about Christ followed by Disney's The Lion King. The team chose not to watch the films; they decided to take in a leisure game of charades. Local New Year's Eve lore teaches that drumming commences in southern Sudan and travels along different countries throughout Africa. The village will begin Godly worship at 11:30 pm, the traditional playing of drums will signal the commencement of worship. On a village night, a communal fire is lit and villagers gather to share stories and to instruct children on proper behavior.  Most of the team retired to our tents by 10:00pm, myself included.  A few team members stayed up to ring in the New Year, Acholi style. I remember being startled by the celebration at 11:30 pm but exhaustion got the better of me, so I did not have the privilege of participating in the celebration. 
January 1, 2012
I wake up at 6:00 am to the sound of drums. It is a glorious morning as the stunning pink and orange African sun begins to rise. As a result of my military training, I rise quickly and take down my tent. As I wait for my team members emerge from their tents, I see a group of Acholi people carrying a young man as they walk toward the center of the village. His unusual behavior had the villagers believing he was possessed by the devil. That the individuals carrying him chose to bring him here rather than take him to a witch doctor, was a miracle. Dan, a doctor, rushed over to the young man and diagnosed him as being extremely intoxicated and most likely, under the influence of drugs – an overindulgent New Year's Eve celebration, indeed.  Villagers and team members quickly assembled to pray over him. After about fifteen minutes of praying over him, the toxins had left the young man's system Dan believed a miracle had just been witnessed.  The doctor had never seen a man that heavily intoxicated, make a full recovery. Within a matter of minutes after the praying, the young man was walking around in shock, but completely sober. We later discover that the intoxicated young man, Ordega, is the local pastor's son. We attempt to get back on schedule and head back for breakfast and simultaneous devotion. Our devotional is interrupted by children playing nearby and ends.
People begin making their way here from the nearby huts to attend the church service. On our way to the tree where the church service is to be held, team leaders ask if anyone wants to preach.  I was eventually convinced to do so by the team.
At first I had no idea what to say, but the Holy Spirit spoke through me and I shared the verse John 3:16 with the Acholi people. I incorporated what I had learned from my hut-to-hut evangelism; their 'why' they are hesitant to follow Christ.  I linked their responses to the teaching of John.  Later on that morning we were told Ordega made a decision to follow Christ after this experience. During the service, I reflected on the incident with Ordega, and thought to myself that I was blessed to have experienced that event. Everyone in Ordega's family is born again. I was told that team members had evangelized at Ordega's home where there they met with Ordega's mother who provided a gift offering of sim-sim seeds and a bag of peas for the team. Who knew that the following day her son would finally decide to follow Christ? We truly witnessed divine intervention this morning. Today as a result of her faithfulness, the village, the team, and I rejoiced and praised God. The service which included songs of worship, preaching by Tony, pastors, and some pastors in training, spanned several hours. I noticed Opiyo (Robert) and Kilama (David) whom I had met at Logot Libi sitting in the audience and was honored to speak with them after the service. We set up a medical clinic for a few hours after the service. After the clinic, we packed up and traveled back to Gulu.  The bus ride proved exciting as we were informed that dinner tonight would consist of pizza and salad. We enjoyed veggie, pepperoni, and barbeque chicken pizzas and garden salads. A majority of the team retired to bed after dinner.
January 2, 2012
Breakfast today was at 7:30 am followed by group devotional. During our devotional, Tony informed us that we would not be keeping with our scheduled village today. Instead we are to visit the village of Olee (we were later informed that the pastor of the village we were going to visit had suffered the loss of his hut to a fire and understandably, was not in the spirit of entertaining guests). Tony arranged for us to go to the village of Olee. This village is a farther than the villages we previously visited. Thirty minutes out from Olee, the road becomes a small, bumpy trail. The lush greenery of the grass and trees fascinated me. Our first mission upon arrival, lunch preparation – peanut butter, honey and banana sandwiches. Following lunch, we pack into the church and are formally welcomed by the pastor and the village people. The team split into three groups, one for VBS, one a men's group, and the other a women's group. It takes awhile before the spiritual dynamic sets in but in the end, it was an uplifting event.  After group, the team ventured off to see the seep hole that the village uses as their only water source. It was a bit disheartening seeing the seep hole and knowing this is their only water source.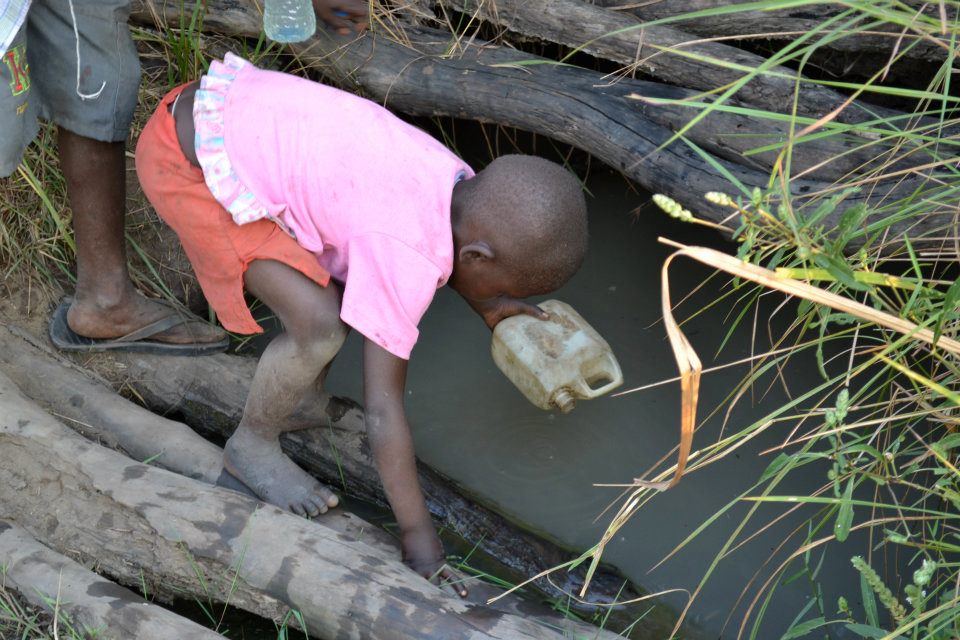 I was pleased however to know that the village will soon be receiving a water well. We returned to the center of the village, said our goodbyes to the villagers and boarded our bus. We had anticipated going to a health center but time constraints prohibited this opportunity. We returned to Gulu for dinner – rice, beans, 'peas', pineapple, papaya, and limes.  I used my limes to make limeade.
January 3, 2012
Today we are scheduled to go visit the village of Lukodi. We begin our day with breakfast and devotional. We arrive at the village, are briefly greeted by the Acholi people and quickly invited to join Rosemary (and a few other women) to harvest g-nuts (ground nuts), better known to us Americans as peanuts. At the field we all are given an opportunity to work the farming hoe while other team members helped remove the g-nuts from the plants and place them in a bucket. Following our laborious efforts, we enjoy peanut butter, honey, and banana sandwiches for lunch. The last team visiting this village was a drilling team.  We are ceremoniously greeted by the pastor and village leaders, and are entertained with youth musical performances and participate in observing the charge to the Acholi people to care for the well, and after lunch, the well is officially dedicated to the village of Lukoki.
At the close of the ceremony, the team walked over to the well and pumped water in celebration of the gift of the well to the village. We opted out of the formal VBS program and instead gathered the children for VBS goody bags which consisted of two coloring sheets, two crayons, two pieces of hard candy, and a balloon. After all goody bags were distributed, we gathered our belongings and headed back to Gulu for some much needed down time. We arrived at JoJo's with two hours to spare before team dinner. I showered and went to Café Larem, a local coffee shop we had all been eager to visit – they held the key to our creature comforts, a Wi-Fi connection. After a power outage at Café Larem, I walked over to Cedar's Hotel, the location of Ahmad's restaurant. Unfortunately, he was not in so I head back to JoJo's but notice him on the second floor balcony. We exchanged greetings and had a short discussion about what the team had been doing out in the villages. I asked to view a menu from his restaurant since I had been speaking about the restaurant since I met Ahmad. Dana, David's wife (our team leaders) mentioned the possibility of allowing us to eat at the restaurant one night. He phoned the restaurant and had one of the wait staff come to the hotel and deliver a menu for me to borrow. After looking at the menu I mentioned I would like to try some hummus; he then invites me over to the restaurant. On our walk to the restaurant, he tells me about different types of hummus he wants me to sample. We walk into the restaurant and he waves down one of the wait staff and gives him a list of food to prepare. The food arrives and fills the table. At this point, I feel like a food critic since I will be the only one eating. I had a salad, a sample of Baba Ghannouj and another type of hummus, some crushed oregano with olive oil and sesame seeds on pita bread, and two different meat dishes. The food was delectable, I finished the first meal which consisted of chips (French fries), salad, and seasoned meat with sautéed onions, bell peppers, and carrots. Ahmad asked me how the meat tasted and I said it was somewhat sweet. Surprised with my response, he waived down a waiter and had him prepare a dish with the "right" spices, and second main dish is prepared. This meat dish was seasoned with shawarma spices, a bit spicier than the meat of the first plate. I glanced at my watch and noticed it was almost time to be back at the hotel. I thanked Ahmad for the wonderful food and assured him that the team would be eating here one night. I said my goodbyes and excused myself from the table.
I arrived at the hotel to see everyone was already seated at the table waiting for dinner to be served. With a smile I informed them I wasn't going to be eating because I was so stuffed from eating at Ahmad's restaurant. Tonight's dinner, spaghetti. Allison, one of my team members, taught the hotel staff how to prepare the dish.   
January 4, 2012
Breakfast and group devotional went as scheduled, however; we had a delayed departure because of bus maintenance, a tire. As were waiting on the tire repair, the team packed 100 mercy bags and prepared items for the children's VBS. The repaired bus arrived around noon. We arrived at the village of Otem and divided into teams for mercy bag delivery and hut-to-hut evangelism. I enjoyed the villagers' facial expressions when handed them the free mercy bag with the explanation that God's love is also free. We are so blessed here in this nation that at times we fail to recognize what we have, especially when it's right there in front of us. Seeing their faces brighten simply due to the fact that we came from thousands of miles away and made time to chat and spend time with them was priceless. Dan and the others on the medical team set up a clinic and assist about 70 villagers.     
Minutes before we reach our hotel, we discover we were driving on a flat tire. Haji pulls over and David steps out to wave down a man driving a boto-boto (motorcycle). The team unloads and other boto-boto drivers appear and we are quickly surrounded by boto-botos – the drivers know they can make some money for driving us back into town. We load onto boto-botos and are driven off.  I can't help but think that we look like a motorcycle club driving back to the hotel. Tonight's menu: beans, rice, and cabbage.
January 5, 2012
After breakfast and group devotional, we head to the village of Olong.  Villagers had not seen a mzunga (a person of foreign decent) since they returned from the encampment three years ago. We were greeted by the Acholi people with singing and dancing. We divided into three teams. One team was in charge of the medical clinic, another team took part in VBS, and the third team engaged in conversation with the villagers and presented them with mercy bags. I was a part of the medical team today and played the role of a pharmaceutical technician. I worked next to Walter a local doctor who handed me prescriptions which I filled and handed to Luis, one of the student translators. Upon being handed the prescriptions, Luis would then dispense them to the local villagers.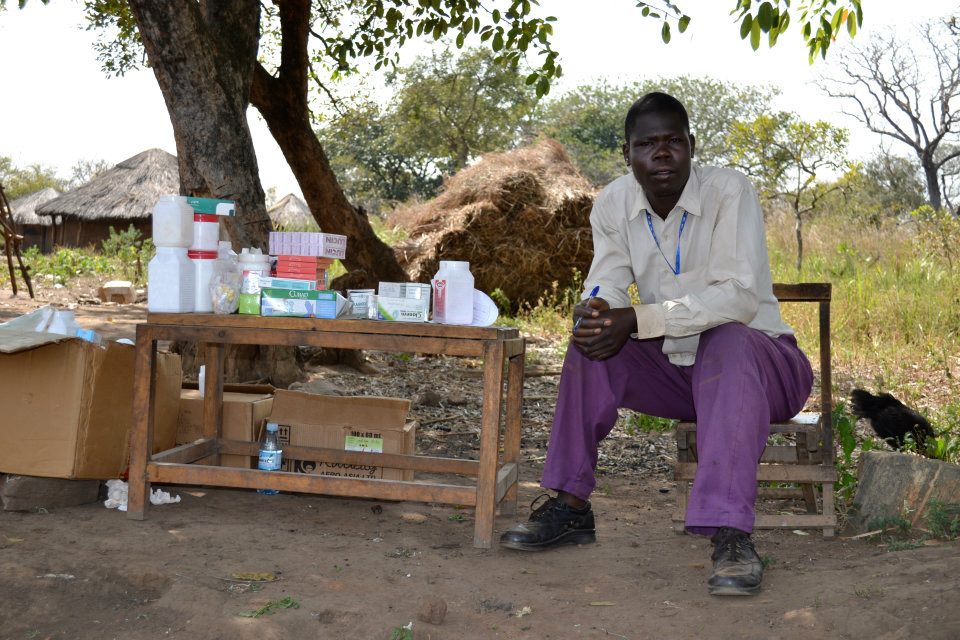 We prescribed a variety of medicines to include: ibuprofen, aspirin, amoxicillin, antimalarials, and cough syrup, to name a few. The clinic was so busy that we failed to keep track of time and consequently were forced to shut down. The clinic operated for about five hours and assisted about 200 patients. We packed up, said our goodbyes, and headed to JoJo's. We detoured and stopped at a village, one of six that were chosen as drilling sites for a new well. The drillers had been drilling all morning to reach 90 feet below the surface, typical location of a water pocket. We waited around for a while hoping to witness the gush of water shoot up from the ground, much like that of a geyser. According to the drillers, it didn't seem likely that they would be reaching any water today. We loaded back onto the bus and departed for Gulu.  Tonight our team would enjoy dinner at Cedar's, Ahmad's restaurant.    
We walked over to Cedar's. Our feast consisted of: Cedar's version of chicken fajitas, two types of salad, and chips. For dessert we had fudge sundaes. Before leaving the restaurant, we were given the option of sleeping in the next morning or going out to a village. There was some confusion whether our team leader wanted everyone to meet for breakfast or not. Most of the team went back to JoJo's not making a decision. Tomorrow's plans were up in limbo.   
January 6, 2012
To my surprise, everyone woke up early having decided to minister to a village. It was decided that we would return to the last village we visited in hopes of witnessing the completion of the well drilling. We intentionally set no agenda. Our mission today was to spend time with villagers and (hopefully) witnessing their well springing to life. Colleen, Dan's wife, had filled a gallon sized plastic bag with stretchy shapes rubber bands for the children of the village. She handed out handfuls to different members of the team. We arrived and stepped out of the bus to greet the villagers. I went off to the side and took a seat next to a small tree to get some shade. As I sat there I began observing everyone as they engaged in conversation and played with the adults and children. I made I contact with one of the children and pulled out the first rubber band to hand to the child. The second I hand this rubber band to this child, the other children rush over and surround me with hopes of receiving a rubber band of their own. I handed them out until children began pushing and shoving. At that point, I stood up and gestured with my hands that I no longer had any. I had initially taken a seat next to Philip, a young boy from the village, and his friends.  Although our conversation was mostly small talk, he and his friends followed me around almost everywhere I went. When I would get up and go view the drilling from a different angle there they were. We sat on a tree for a while and he asked if I liked lemons. I noticed adults were using some to make lemonade by the storage shed. I gestured a yes, and he whispered something to one of his friends and off his friend goes. When his friend returned, I noticed some round objects in his pockets and smiled. He pulls out a lemon and hands it to me and motions to me to peel it open so we can enjoy it while sitting in the sun. I peel it and share it with Phillip and his friends.         
The drillers make their final preparations and inform us they are about to reach water. Everyone stands off to the front side of the well to avoid getting wet when the water gushes out. I, and my new young friends, stand on the opposite side in order to snap some photos of the water springing out from the ground. With a release of a lever, the drilling restarts and within seconds, the village has a new well.
Witnessing the village receive something so essential to every-day life was an extraordinary experience. Seeing their faces light up with enthusiasm was a tremendously heart-felt and memorable moment for me. Earlier, David had noticed a child with a swollen ankle. After a brief examination, it was determined that he needed amoxicillin. Unfortunately, medication is a significant expense and it is common for infections to go untreated, and the villager is forced into a lifetime with damaged tissue from an untreated infection. David was determined not to let this infection steal this young man's joy and arranged to drive this young man to a local town to purchase the needed medication. David, Dan, a student interpreter, the child, and the child's father drove to a nearby town. The young man's father is hesitant to speak with David, despite his knowledge of English. David persists in establishing a relationship with him and reaches the father when expressing his joy over the day's events, specifically the well completion. The conversation turns serious when they discuss the young man. The father is convicted and realizes that today has been the hand of God at work.  Convicted, the father makes a vow to follow Jesus, but before doing so, he asks David to take him to his wife. They locate her in a field; he approaches her and begs for her forgiveness for all his wrongdoings towards her. She forgives him and he shares with her, his decision to accept the Lord in his life. Hesitant to follow in his footsteps, she informs us she brews alcohol for a living and is therefore reluctant to make the same decision. David assured her of God's love for her and asked her to pray that God guide them towards a different method of earning a living.        
We returned to JoJo's early enough to grab a late lunch. I walked over and had lunch at Cedar's; however, I didn't have the opportunity to speak with Ahmad on this occasion. After eating Cedar's version of chicken fajitas again, I returned to JoJo's and walked to the court yard to find some team members preparing gift bags for the hotel staff and our five student interpreters: Luis, Jeffrey, Nighty, Flaiva, and Irene. It was almost dinner time so Dana sent Cody and me to place an order for two salads.
The menu for the evening consisted of pizza and salad. While waiting for the pizza to arrive, Molly, a long time friend of David and Dana, arrived and brought some handcrafted Acholi paper beads for us to purchase. David and Dana have supported Molly and her friends for quite some time – every time they bring a mission team, they have Molly bring these special beads.
Molly and her friends use recycled materials, mostly magazines, and artistically string them together into stunning colorful bracelets and necklaces. As we were shopping, the pizza arrived, so we ate and shopped until everyone had an opportunity to purchase beads. After everyone made their purchases, Molly packed up her remaining beads. Dana asked her to give a small speech before she left; and although she was put on the spot, Molly gave a heart-warming speech.
Molly left and we moved on to the next planned event – distribution of gift bags to our student interpreters. Allison was our designated team spokesperson and gave a speech thanking the students for their exceptional display of selflessness and professionalism they demonstrated throughout our time together. Jeffrey spoke on behalf of the students and expressing the deep connections they made with the team and the memorable experiences they took part in while working with us. He also stated that the students were extremely thankful for the opportunity of meeting us all and sharing in this experience with us. After the speeches had been shared, we were given the opportunity to have our pictures taken with the students.
After the photo shoot, Cody and I returned the trays we borrowed from Cedar's. At Cedar's I see Ahmad and his family seated at a table. I speak with him briefly and return to Cody to inform him that Ahmad had asked me to stay a while to chat. I say my goodbyes as the team and have planned to be up by 4:00 am tomorrow morning in anticipation of the long drive to Murchinson Falls National Park situated in the northern part of the Albertine Rift Valley.
January 7, 2012
As planned, the team was up and running at 4:00 am and despite having a small breakfast in anticipation of our 5:00 am departure, Haji had inadvertently slept in – we left at 6:00 am. We were still able to depart to Murchinson Falls before day break, which was necessary so that we could catch the first boat ride scheduled for 12:30 pm on the Nile. Murchinson National park is Uganda's largest national park measuring approximately 1,480 square miles subjugated by woodland, wetland, savannah as well as tropical forest. It is well known to be a habitat for over 76 mammal species and over 450 different bird species. The drive to the park included a magnificent view of the Ugandan savanna; the golden rolling grassland dotted with trees was a spectacular sight. The different kinds of plants included acacia Senegal, candelabra tree, jackal berry tree, umbrella thorn acacia, whistling thorn, Bermuda grass, baobabs, and elephant grass. The closer we got to the park the greener it became. Lush, tall, green grass made it apparent that this area was fertile and well-watered.  It was an hour and a half drive from the park's main gate to the Paraa Safari Lodge. The moment we entered the park we saw diverse wildlife. We saw antelope, Ugandan Kob, giraffes, cape buffaloes, warthogs, and a various species of birds.
We arrived at the Paraa Safari Lodge, the safari décor of the lodge still reflects the bygone era of early explorers, enshrined with a modern touch. The luxurious pool overlooks the winding River Nile below, which was the setting for the classic Hollywood movie "The African Queen" (starring Katharine Hepburn and Humphrey Bogart). Upon arriving, the first group enjoyed an exhilarating boat cruise along the River Nile, ending at the foot of Murchison Falls.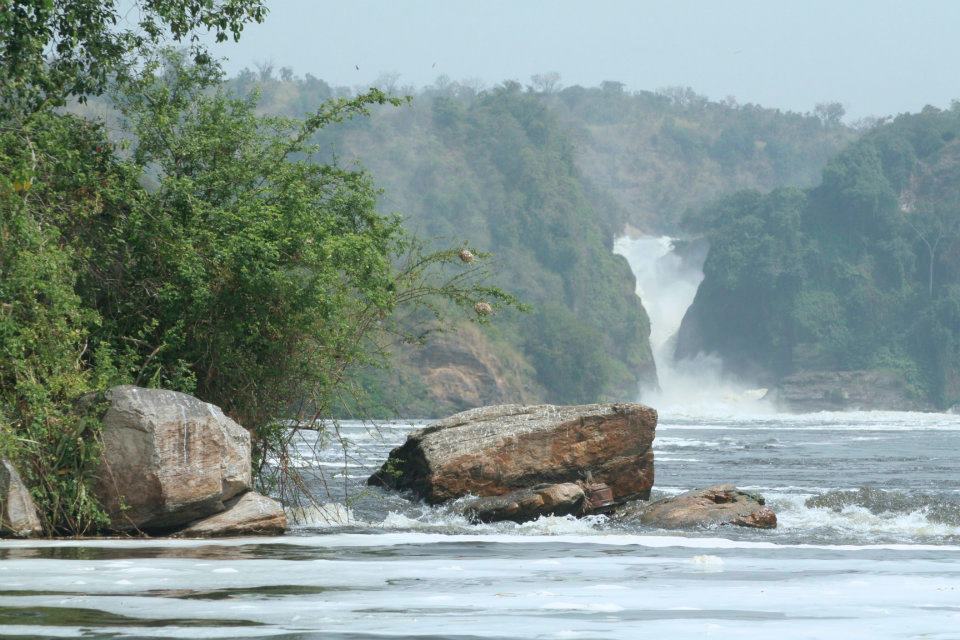 The rest the team checked in and enjoyed an exotic array of local food from the buffet at the lodge restaurant. At 2:30 pm a few of us went on a boat ride. We chose a smaller boat to allow us to hug the riverbank which allowed a closer look at the wildlife resting on the shores of the river. During the ride, we spotted elephants, hippopotamuses, cape buffaloes, crocodiles, and an array of birds to include: fish eagle, malachite kingfishers, goliath heron, woodland kingfisher, and red-throated bee-eaters. After the boat ride, I relaxed in the lodge pool until dinnertime. We had dinner followed by an hours long debriefing in a lodge meeting. After the emotion-filled debriefing, we retired to our rooms. Tomorrow would be our travel day – back to Entebbe and then, the states.
January 8, 2012
Before day break, a group of us departed for a safari drive. We drove on winding roads through the scenic Buligi area west of Parraa to the Delta Point (where the Victoria Nile passes through the Northern tip of Lake Albert to become the Albert Nile), the entire drive takes about three hours. I wasn't initially optimistic as we had only spotted hippopotamuses, giraffes and some Guinea fowl; however, the view of the sunrise, coupled with the morning fog, was stunning. En route to the lodge, our driver spots a lion. We noticed the driver of the other jeep veer off the road for a closer encounter with the lion. Our driver was hesitant to follow as such action is punishable by as much as a month's salary. The encounter with the lion made the safari worthwhile.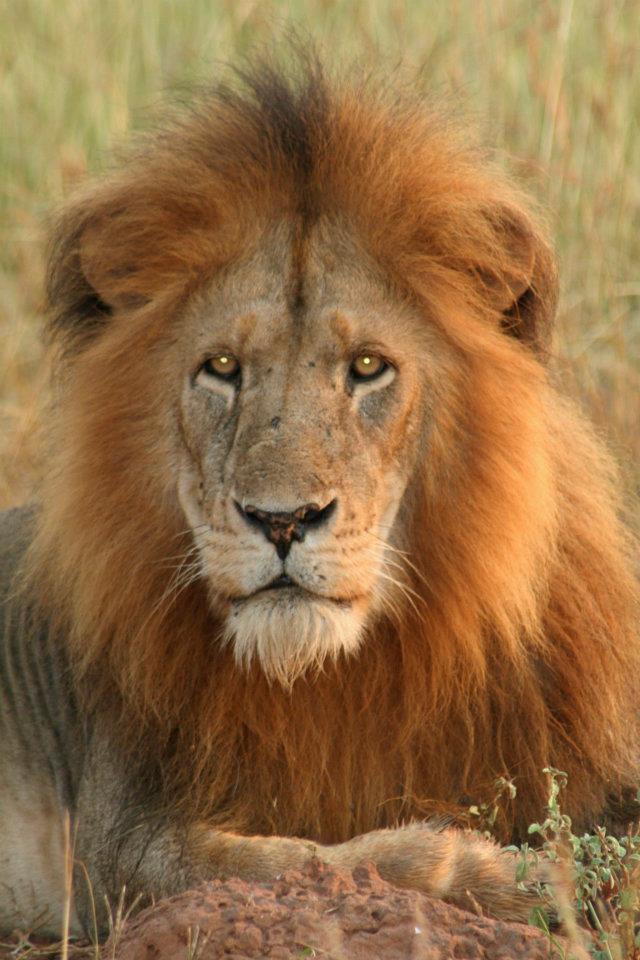 We returned to the lodge for breakfast and packed up to drive down to the ferry. We waited for the ferry to arrive, crossed the river, and drove six hours to Kampala where we would be making a stop at the cultural markets to purchase gifts. We were running on a tight schedule and were given only an hour to shop in the market. After shopping we headed back to Banana Village where we would be eating and showering before catching our flight at 8:00 pm. Haji drove us to the airport; we all thanked him and said our goodbyes. We boarded the plane and embarked on a long journey back to the states. I was extremely tired. I slept on all three flights back home.
Even though my time in Uganda was short, the memories created will remain in my heart forever. Each time I see a photo of the Ugandan savanna, I will be taken back in time to the day I was there overlooking the golden grasslands. Each time I see a child of African descent, I will be taken back in time to the day I played and stood with the Acholi children. The Acholi people may not be overwhelmed with materialist possessions, but what they are overwhelmed with is peace, hope, joy, and love. I thank God daily, for the honor of having been able to spend a week and half evangelizing to the Acholi people.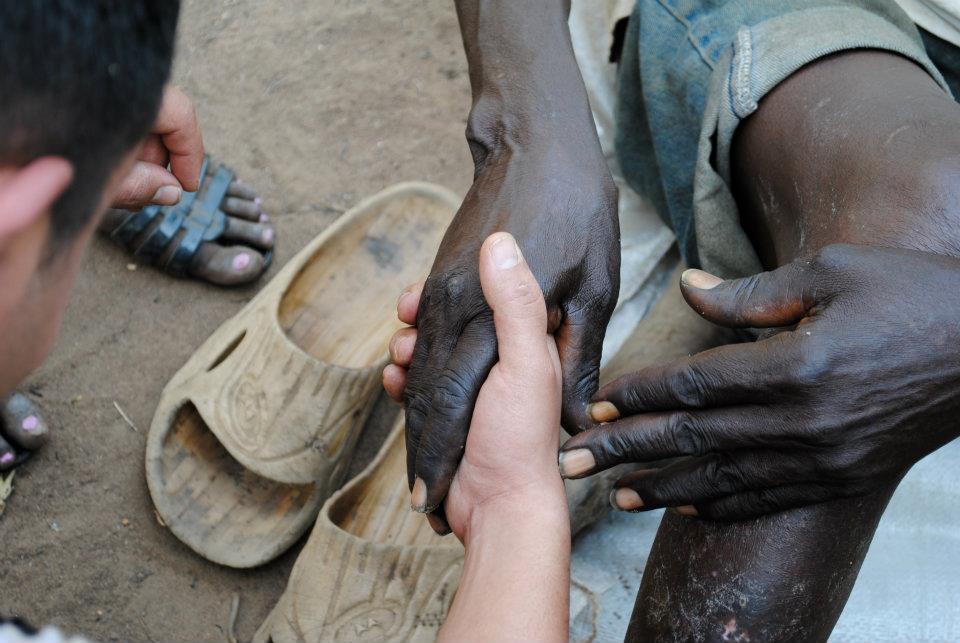 Continued Blessings…
Thank You for your support and